Abstract art has always held a fascination for me. Being such a literal person, abstract pieces are intriguing in their interpretation of life and things found in life. Much of what was found in early art dealt with simple lines, form and geometric shapes to represent a certain subject. There have been several advances in abstract art with terms attached to the styles or format, such as Fauvism and Cubism. Some of the early noted abstract artists were Paul Cezanne, James McNeill Whistler and the most notable Pablo Picasso. This is quite a detailed topic so I will refer you to this article
Abstract Art
on Wikipedia.
My first attempt at an abstract painting was in high school down in Texas. Our teacher had us go through a stack of magazines to find a photo of something we could create an abstract piece from. I found a majestic picture of what I think was Banff National Park similar to the one above. I had a lot of fun adding multiple colors and lines going this way and that way with paint. It turned out pretty good, I guess it must have been as they framed it and hung it in the school office. You know I never got that painting back. Since then I didn't really do anything abstract in any way until the last 4-5 years when I picked up acrylics and started painting.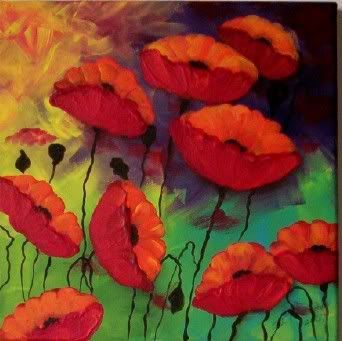 I'm not sure how abstract this is, but for me it was a reach outside my normal painting. It was fun to slap on the paint, using different colors and try to depict poppies without much reality. This may be more impressionist than abstract, but you be the judge.
Have you ever tried to create an abstract painting?